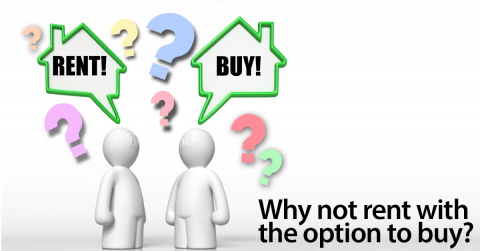 A Rent with Option to Buy may sound like a good deal, but is it?
It works for some people, but does it work for you?
What is a Rent with Option to Buy?
Rent to own (also called lease option or rent with option to buy) is a way to buy a property over time, giving you an "option" to purchase at some point in the future.
With a traditional home purchase and sale, the buyer and seller complete the purchase more or less immediately after agreeing to terms (at closing), but rent to own is different.
Under a rent to own agreement, the buyer and seller agree to the possibility of a sale at some point in the future. Ultimately, the renter/buyer decides if the transaction will actually take place. In the meantime, the buyer makes payments to the seller, and a portion of those payments (usually) reduce the money needed to buy the house at a later date.
You pay rent for a specific amount of time and a portion of your monthly payments will go toward the purchase price. You'll also typically pay an option fee that's between 2.50 percent and 7 percent of the purchase price. The fee isn't refundable — think of it more like a long-term deposit that you'll get credited back when you buy the home.
Rent-to-own homes come with a significant risk to buyers. If the owner of the property gets foreclosed on, you're going to be forced to leave. The contract with be forfeited and you'll have to buy the home from the bank. FHA loans are great for first-time home buyers you may be able to get approved for a home even with bad credit. It's a good idea to explore all your options for financing before moving forward with an owner financed property.
How Does it Work?
First, you and the homeowner sign a contract stating how much the final sales price of the home will be after the rental period ends. The process works similarly to a car lease: you (the renter) pay a certain amount each month to live in the house, and at the end of a set period --generally a year -- you have the option to buy the house. Each month of rent you pay is income for the seller, while a portion of it goes toward a down payment to eventually buy the home.
This is a valuable alternative for buyers who otherwise wouldn't have the credit score or money saved to acquire their own home.
What if you change your mind and don't want to purchase the property?
If, at the end of the contract you can't or choose not to buy the house, the seller keeps all the money. However, you will be paid the small amount of interest that has accrued on the account.
Protect Yourself
While renting to own is a real path to homeownership, be cautious. Scams abound, and can cost you. Before you sign any type of seller financed or rent-to-own agreement there are a few things you should do to protect yourself:
Work with a real estate agent who has experience doing this type of lease.
Beware of any property which is in need of repairs.
Have the home professionally inspected and appraised.
Make sure you can qualify for a loan in the near future.
Negotiate a lower option fee and rent payment.
Research average market rents. Rent to own means paying extra each month, so anything below the going rental rate is a red flag.
Don't pay or offer personal info upfront. Scammers may ask for a deposit or sensitive information. Don't provide either until you've seen the property.
Inspect the seller and the home. Be sure the seller owns the home, and is current on mortgage payments and property taxes.
Know what you're signing. Getting out of a rent-to-own agreement is difficult, so carefully examine — or have an attorney review — the agreement before you sign it. If you uncover a scam, report it to the attorney general's office or the Federal Trade Commission.
Entering a Rent-to-Own Agreement
You and the landlord must agree on several things before you sign a contract. Here are questions you need to ask yourself before you jump into an agreement:
How long will the rental period be before you have to exercise the purchase option?
Will you determine a purchase price up front or when the lease ends?
How much will the option fee be?
How much will the rental payment be?
Who will be responsible for maintenance and home repairs?
PROS:
You can defer making a decision for a set period of time (rent to own options can vary in time from 6 months to a year or even longer).
You can live in the property before you purchase and determine if it and the neighborhood are right for you.
You can save up money or improve your credit while living in your new soon-to-be home.
At the end of the year your earnest money deposit is already in place.
Depending on the agreement, you can walk away if you find something seriously wrong with the house. Although you will lose the option fee and all your rent credit money, that amount will be much less than if you had bought the house outright and tried to leave it later.
CONS:
Forfeiting money: If you don't buy the home—for whatever reason—you lose all of the extra money you paid. Sellers who are easily tempted may make it difficult or unattractive for you to buy.
Slow progress: You might plan to improve your credit or increase your income so that you'll qualify for a loan when the option ends, but things might not work out as planned.
Less control: You don't yet own the property, so you don't have total control over it. Your landlord could stop making mortgage payments and lose the property through foreclosure, or you might not be in charge of decisions about major maintenance items. Likewise, your landlord could lose a judgment or quit paying property taxes and end up with liens on the property. The agreement should address all of these scenarios (and the landlord isn't allowed to sell while you have an option on the property), but legal battles are always a major pain.
Falling prices: Home prices might fall, and you might not be able to renegotiate a lower purchase price. Then you're left with the option of forfeiting all of your option money or buying the house. If your lender won't approve an oversized loan, you'll need to bring extra money to closing for a down payment.
Late payments hurt: Depending on your agreement, if you don't pay rent on time, you may lose the right to purchase (along with all of your extra payments). In some cases, you keep your option, but your extra payment for the month is not "counted," and it won't add to the amount you've accumulated for eventual purchase.
Home issues: There might be problems with the property that you don't know about until you try to buy it (such as title problems). Treat a rent to own purchase like a "real" purchase—get an inspection and title search before diving in.
Scams: Rent to own scams are an appealing way to take large sums of money from people who are not in a financially secure position. So potential buyer beware!
In light of all the problems associated with this type of purchase, we developed the Rent to Home Home Readiness Program. For more information abbout Rent to Home, click here.