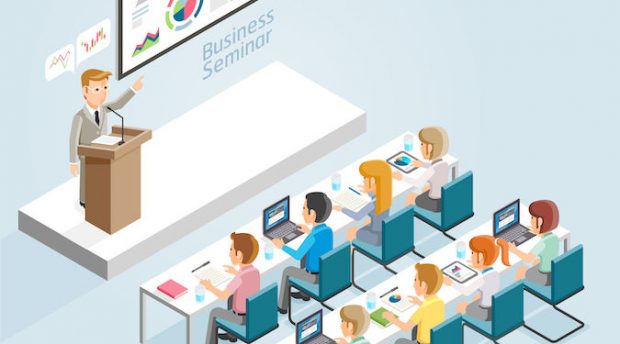 It seems like everywhere you go online there is an advertisement for a home buying workshop. There are in abundance and you have you have many choices to choose from.
However most home buying workshops are held on the weekends (Saturday seems to be the day of choice) and for many people who routinely work on the weekends this isn't even an option. You can't get off that day or if you can, you have to sacrifice a vacation day or personal leave. So, your choices are to miss the workshop and all the information it affords or take time off. Not necessarily great options.
Enter the Workplace Workshop to the rescue! The idea is simple: Instead of coming to one of our workshops, we bring the workshop to you. At your workplace, at a time and date arranged by you.
Now your first question is probably is how much does it cost? It's totally free of charge. Hmn, now you're really suspicious because this sounds too good to be true. Well it is true and it gets even better. How about we throw in lunch as a nice little incentive?
So what topics are covered in the Workplace Workshop? It depends on the type of workshop you want. We offer Credit Wellness Workshops, Rent to Home and Home Buying 101 Workshops. Each workshop is one hour from start to finish. All you have to do is provide the location (a conference room or large office) and we'll do the rest.
Credit Check-Up

Here's an opportunity to have your tri-merged credit score pulled free of charge by a mortgage professional. Just bring your photo ID. No workshop, no presentation, simply come to the event, input your information, talk to a loan officer and learn your credit ranking. It's as simple as 1 2 3.

If you are using Credit Karma, Credit Sesame, Credit.com or Fico.Com or any other credit monitoring service and think you know your credit score you are DEAD WRONG!
Find out your Credit Score
Get FREE Credit Coaching
You may qualify for Homebuying Grants for Down Payment Assistance
Up to $18,000.00 May Be Available to Buy Your First Home
Bad credit? No credit? Low credit? Get help from the professionals.
Rent to Home Workshop
You've heard about Rent to Own Programs, what about a program that can skip that rental step and launch you directly into buying a home? Sound too good to be true? It's not and it's happening every day.

Bad credit? No credit? Bankruptcy? Divorce? Foreclosure? Short sale? We can help you! This program is absolutely FREE and there is no obligation.
This is not some magic fix but a proven method of helping people realize their dreams of becoming homeowners. It doesn't happen overnight but it DOES happen, sometimes as quickly as 3-4 months. All it takes is your commitment and the right knowledge.
In one hour, learn what it takes to put you on the road to home ownership.
Home Buyer 101 Workshop
Topics include:
What is the newest down payment assistance program?
How much money do you need before you start looking for a home?
I can't purchase now, should I consider a rent to own property instead?
Can you purchase a house after a bankruptcy, short sale or foreclosure?
What is included in closing costs?
What is the difference between a short sale and a foreclosure?
And much, much more!